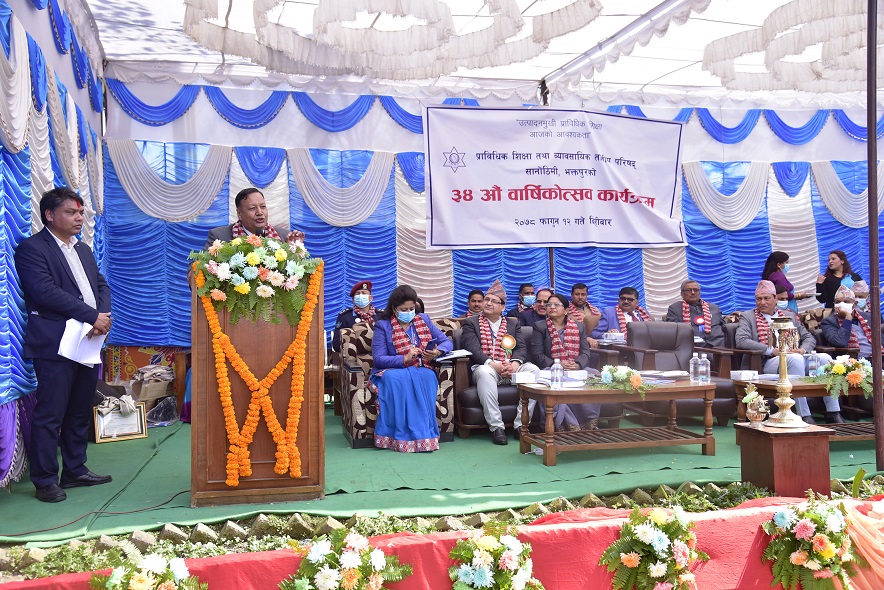 CTEVT vital in producing competent and skillful technical human resource
Minister of Education, Science and Technology Devendra Poudel said the Council for Technical Education and Vocational Training (CTEVT) had important role to provide competent and skillful technical human resources required for the nation.
Minister Poudel underpinned in a programme organized on the 34th anniversary of CTEVT. "Discovering of constructive and innovative issues and ideas, development of new infrastructures and access of TVET to each local level would help to establish the brand and widen the scope and image of CTEVT," he viewed, quality technical education and vocational training is the only means to eliminate the unemployment.
He further expressed the CTEVT song which he listened in the beginning of the program is the complete song expressing the access, equity and quality TVET through the employment to move the nation through prosperity. So all the staff needs to act accordingly to provide quality service to the stakeholders.
State Minister of MoEST, Bodhmaya Kumari Yadav expressed quality TVET can enhanced the Nation's prosperity through employment and its access should be amongst all the youths. She further wished on the 34th CTEVT anniversary.
On the occasion, Ministry Secretary Yadav Koirala said CTEVT had an incomparable role to cater quality and employment-orientated education. However, the CTEVT employees must be determined to work with new ideas to excel further, generating necessary human resources for country development. More than 3 decades of the establishment of CTEVT so it is the prime time to review whether CTEVT activities are competitive to the private-run institutions' activities, he reminded, assuring that the new act on CTEVT which is under discussion would address the employees' problems and raise the status of CTEVT.
Member Secretary at CTEVT Jeeb Narayan Kafle informed that they were working with the vision of 'Skilled People, Prosperous Nepal'. The CTEVT is active to ensure citizen's inclusive and equitable access to quality technical education and vocational training.
According to him, present annual enrollment capacity at CTEVT programmes is more than 100 thousand including pre-diploma, diploma, certificate level and short course training. The CTEVT runs programmes and training on health, agriculture, animal husbandry, and technology.
Similarly, the teachers and students from various technical schools put their products on display in the CTEVT premises.
Even a journal containing eight research based articles of CTVET, was released by Minister Poudel. He also awarded certificates to the best employees at the programme.
In the closing remarks vice chairperson of CTEVT Khagendra Prasad Adhikari said that Government of Nepal's goal of "happy Nepali, prosperous Nepal" can be achieved only through TVET. He further highlighted the need for TVET to follow one-window policy for TVET to be effective despite the nation adopting a federal system of governance.