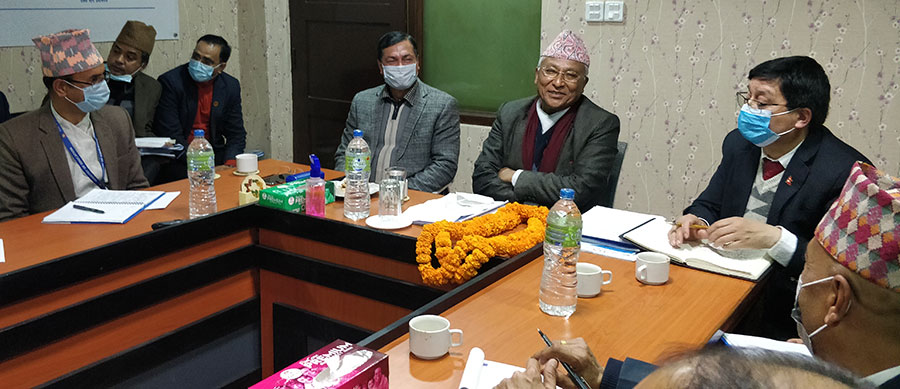 Hon. Minister for Education, Science and Technology Krishna Gopal Shrestha visits CTEVT
Minister for Education, Science and Technology Krishna Gopal Shrestha paid an inspection visit to the Council of Technical Education and Vocational Training (CTEVT) in Kathmandu/Bhaktapur today, one of the major wings of Ministry of Education, Science and Technology (MOEST).
Speaking during the visit, Minister Shrestha underscored the importance of Technical and Vocational Education and Training (TVET) in the 21st century for nation's prosperity and called on CTEVT to adopt TVET for Nepal's prosperity.
Minister Shrestha observed the presentation made by Dr. Pushpa Raman Wagle with full enthusiasm and was pleased to see SWOT analysis being visualized in his presentation and appreciated the presentation made by Dr. Pushpa Raman Wagle, Member Secretary of CTEVT.
Minister Shrestha also noted that CTEVT's competent team led by Vice Chairperson Khagendra Prasad Adhikari and Member Secretary Dr. Wagle is doing a great service to the nation in its efforts to address the global needs of technical human resource.
Minister Shrestha noted that he was ready to review the policy and legal provisions of CTEVT so that it can provide optimum service to the public. He added MOEST will always be instrumental in supporting CTEVT.
Minister Shrestha directed the CTEVT team to show love and affection to all the staff during work and execute work with the honesty and make the workplace free of politics.
Noting that giving affiliation to training institutes often embroils CTEVT into controversy, Minister Shrestha advised CTEVT leadership to adhere to the guidelines on affiliation to decide which training institute to be given affiliation and which not.
Secretary at MOEST Gopinath Mainali said, "CTEVT has a competent team to provide the services in TVET and it has become a known brand all over the world.
Secretary Mainali noted the Government of Nepal has policy to provide access to TVET to all rural municipalities and MOEST is ready to provide the necessary support to reach out 117 rural municipalities with TVET services this fiscal year.
He also highlighted the need for policy to recognize TVET as special education, different from the general education. He added CTEVT should provide the skills to all citizens as per their interest.
Vice Chairperson of CTEVT Khagendra Prasad Adhikari said that Government of Nepal's goal of "happy Nepali, prosperous Nepal" can be achieved only through TVET. He further highlighted the need for TVET to follow one-window policy for TVET to be effective despite the nation adopting a federal system of governance.
Member Secretary Dr. Pushpa Raman Wagle made a presentation on CTEVT activities, achievements, challenges and way forward.