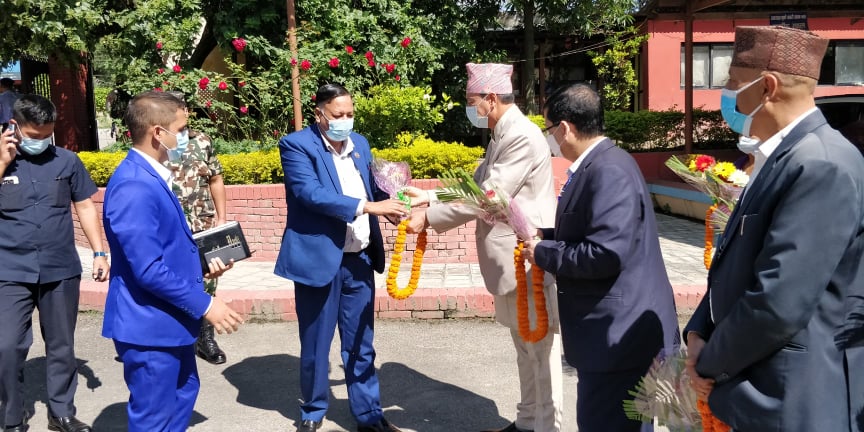 TVET equates to decent job creation
Sanothimi, Bhaktapur, 21 October 2021
Minister for Education, Science and Technology, Devendra Poudel paid an inspection visit to Council of Technical Education and Vocational Training (CTEVT) in Bhaktapur, Thursday as part of getting the first-hand account of the institution entrusted to produce skilled workforce for the country. CTEVT is one of the major wings under the Ministry of Education, Science and Technology (MOEST).
In his remarks following the visit, Minister Poudel underscored the importance of technical and vocational education and training to provide the much needed expertise and skills for employability and Nepal's prosperity. "The experience and expertise of the CTEVT staffs expanding over 20 years should be translated and transformed into enhancing the institution as a pure knowledge hub," he stressed.
Minister Poudel said he has taken special note of the 10 challenges and 13 recommendations for way forward outlined by CTEVT during the presentation of Member Secretary of CTEVT, Jeeb Narayan Kafle.
"The Government is ready to review the policy and legal provisions of CTEVT in the way that optimum services reach out to the needy people," said the Minister and assured, "the CTEVT would receive full support from the Ministry."
"Laziness, callousness, carelessness and corruption are four basic elements that we should all join hands to fight against and CTEVT bear the potential to beat these adversaries by producing innovative and constructive workforce who are committed to national development," said Minister Poudel and addressed that CTEVT should establish itself as the committed brand of producing skilled workforce, acknowledging that TVET activities scattered through different ministries need streamlining.
Noting that CTEVT embroils into controversy while issuing affiliation to training institutes, Minister Poudel advised CTEVT leadership to adhere to the guidelines in its decision-making, overcoming any sort of political pressure.
He also suggested that the slogan of CTEVT could be "Learn, practice, earn and become entrepreneur."
State Minister for MoEST, Bodhmaya Kumari Yadav said demand for technical education is increasing in all schools and noted that she would discuss the matter with the minister how best to realize this demand along with the quality in service delivery.
Secretary at MOEST, Ram Prasad Thapaliya said, CTEVT has a competent team to provide services in TVET and it has become a known brand in South Asia having a glorious history. Secretary Thapaliya stressed that CTEVT is facing highly understaffed because the existing staffs designed initially to operate 14 technical schools in 1989 are under tremendous pressure to operate 63 technical schools at present. "Quality education that meets the needs of 21st century is only possible when CTEVT is adequately staffed," he emphasized and made a comparison of Jiri Technical School established in 1982 with the poorly equipped technical school of Nuwakot, established in 2020. Based on his observation, he emphasized that technical schools needs to be established after ensuring the adequate staffs and the physical infrastructure.
Vice Chairperson of CTEVT, Khagendra Prasad Adhikari took the forum to urge all staff to work with honesty to deliver services transparently as demanded by the Government of Nepal. He also highlighted the challenges being faced as a result of under staffing in TVET schools.
Member Secretary Jeeb Narayan Kafle made a brief presentation on CTEVT activities, achievements, challenges and way forward.