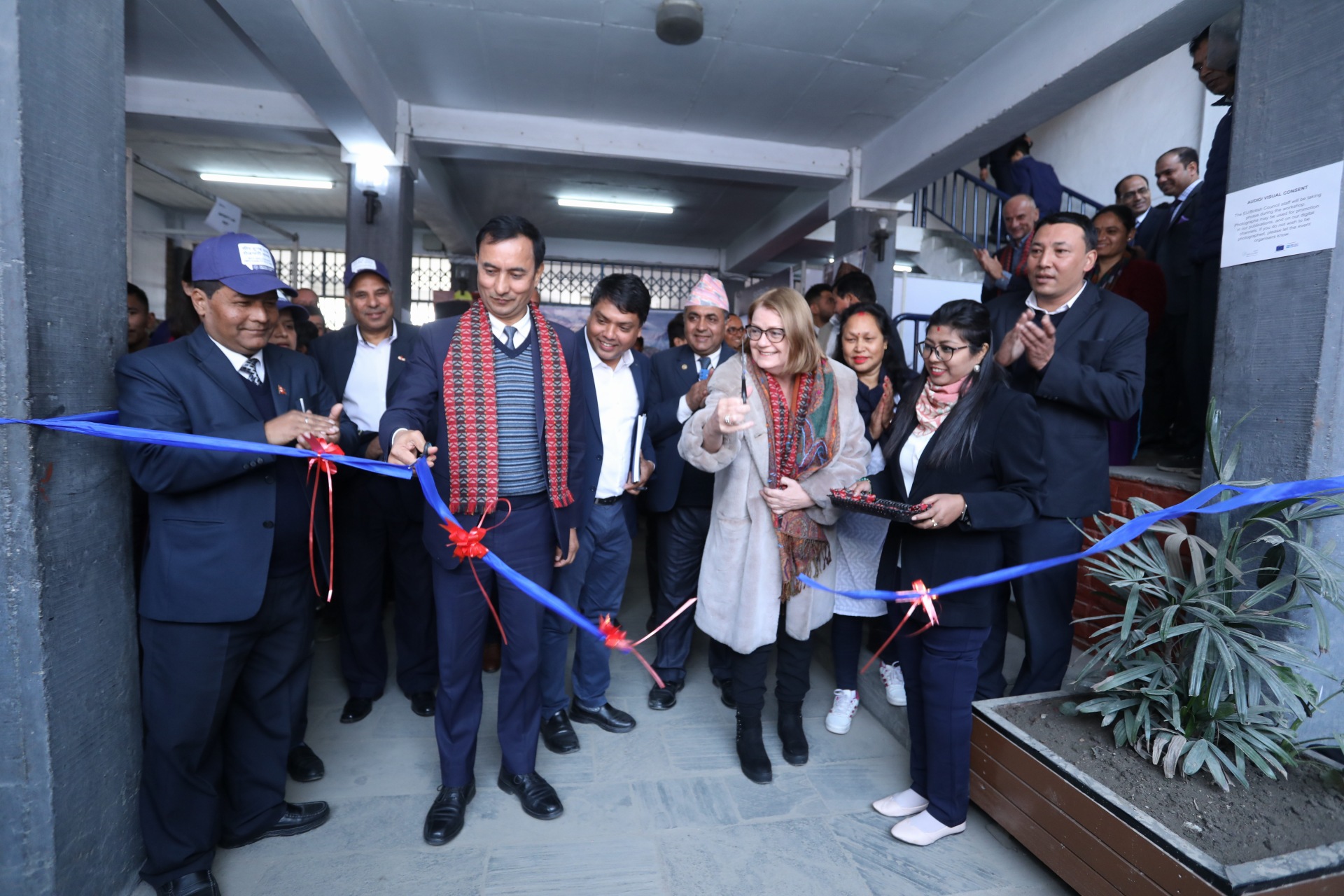 TVET Public Information Campaign
TVET Public Information Campaign "With Skills in Hand, Employability is a Chance" was launched with a national inauguration event today at Balaju School of Engineering and Technology (BSET), Balaju Industrial District, Kathmandu.
The National event was jointly inaugurated by Dr. Pushpa Raman Wagle, Member Secretary, CTEVT and H.E Veronica Cody, Ambassador, European Union Delegation to Nepal. Other speakers and delegates at the inauguration event were Mr. Bharat Raj Acharaya, Executive Committee Member, FNCCI and Dr. Jovan illic, Country Director, British Council Nepal.
The event was divided into two parts: i) Formal inauguration event ii) TVET Mela and Skills Demonstration. Delegates provided their valuable remarks on the importance of raising awareness about TVET thereby acknowledging the start of much needed TVET Public Information Campaign while second half of the event was focussed on outreach activity - TVET Mela and Skills demonstration.
At the TVET Mela, Employers from Agriculture, Construction and Tourism industry exhibited and demonstrated skills requirement as well as willingness to hire skilled TVET graduates. Visitors for exhibitors' stalls seeking information were potential students looking to enhance their skills for gainful employment. Approximately 1500 secondary schools' students from 14 community schools visited employers' stalls and participated in skills competition. Skills competition such as Momo making, pipe fitting, electrical and other demonstration by electrical and mechanical students of BSET made the TVET mela vibrant, engaging and a success to demonstrate the value of skills and its opportunities. Winners of skills competitions at various booths were provided goody bags with campaign merch for their enthusiasm and participation.
Member Secretary, Pushpa Raman Wagle thanked all stakeholders - European Union, British Council and Industry partners on the collaborative effort in launching the campaign and urged to work together in improving outreach on the value of skills and its strong link to employments. Member Secretary also stated that the campaign will play crucial role in bridging the gap between employers, employees and trainees.
Mr. Sanu Raja Bajracharaya, TVET Graduate and retired Cornel of Nepal Army, currently working as Quality Assurance Chief at Prabhu Helicopters provided motivational speech to students about his journey from being first batch of mechanical engineering student of Balaju school to continue utilising his skills even after retirement. This, including documentary showcase on the public information campaign became an important communication tool to spread the positive message on Technical Education and Vocational Training during the first part of the event.
H.E, Ambassador Veronica Cody, expressed confidence that the campaign will support in changing social attitude towards this sector and motivate young people to choose it as a potential career path. That the four-month long information campaign which will organise 38 activities targeting schools, communities and employers will contribute to build synergies among TVET Stakeholders for more coordinated and market driven TVET training and employability for young people in conformity with the government's ongoing plans of reforming the sector.
Mr. Bharat Raj Acharya, Executive Committee Member, FNCCI welcomed the campaign approach and expressed willingness to support the campaign through local chambers of commerce and industry.
Likewise, Dr. Jovan Illic, Country Director congratulated all campaign stakeholders on the start of the campaign. He closed his remark stating 'I wish I can become a student again at the Balaju School' which was an acknowledgment of BSET as a pioneer institution in producing skilled human resources.
In the end, The PIC team thanked all exhibitors, BSET staff and team, volunteers, students and provided 'token of love' and certificates to acknowledge their support for today's event.
The four month campaign implemented by Council for Technical Education and Vocational Training (CTEVT) aims to shape positive public attitudes towards skills for employment. Overall, the campaign aims to increase public information about Technical and Vocational Education and Training (TVET) and its opportunities for employability. The importance of TVET; its value to students, trainees, communities and business and industries is central to the campaign objectives.
The campaign is led by the Research and Information Division at the Council for Technical Education and Vocational Training (CTEVT) with technical backstopping provided by the Dakchyata project, funded by the European Union Delegation to Nepal and implemented by the British Council in coordination with EU funded Sakchyamta project, both focused on improving TVET provision in Nepal.
National launch will be followed by local launches in Janakpur, Pokhara and Tikapur on 9, 12 and 16 January 2020 respectively.