SAKCHYAMTA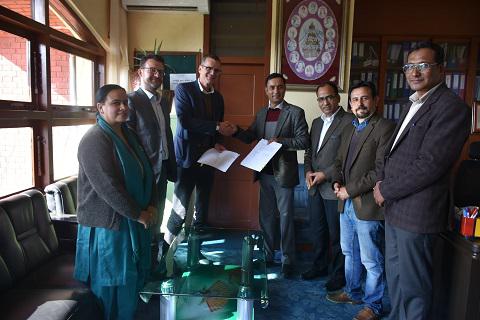 Introduction
SAKCHYAMTA is part of the TVET Practical Partnership (TVET-PP) programme implemented after the agreement between Government of Nepal and European Union in December 29, 2016. The project works under the result area-1 "scale up the quality of TVET provision and implementation ensuring that it is made available through outreach to the most disadvantaged". The project is managed directly by the "Council of Technical Education and Vocational Training" (CTEVT). It will be implemented over the period of four years 2017-2021. The project aims to contribute to Nepals inclusive and sustainable growth through investment in human capital by creating better employment opportunities with capacity development by contributing in management and capacity building of TVET sector.
Specific Objective
The specific objective is to strengthen and implement more effectively a TVET policy responsive to labour market needs and to pilot an integrate the Public Private Partnership (PPP) approach in three key economic sectors:
Agriculture (commercial farming and food production),
Construction; and,
Hospitality and tourism, that offer opportunities for promoting the transition to a greener, climate-resilient and low-emission economy..
Working Area
To achieve the aforementioned objectives, the project works on four major key areas:
Improving human resource management (HRM) system of CTEVT and its institutes and enhance institutional capacity of CTEVT and its provincial offices as well as constituent schools.
Increasing employer representation in the development and validation of curricula.
Improving quality assurance system, standards and monitoring by engaging with private sector.
Coordination and Collaboration with TVET stakeholders at federal, provincial, and local level.
Target Groups and Key Stakeholders:
Managers, trainers and staffs at CTEVT, its constituent schools, TECS Schools and overall TVET sector.
Potential youths of TVET sector.
TVET partners and stakeholders.
Federal, provincial and local government.
Government, private and public sector organisations working in agriculture, tourism and construction.
Government , private and public training providing institutions.
Expected Result
Developing CTEVT Human Resource Management (HRM) Plan.
Strengthening CTEVT and affiliated institutes by providing capacity development trainings to the staffs/trainers.
Identifying 15 most demanded occupations and developing new curriculums for the same. Also, updating evising 15 existing curriculums.
Identifying and testing new curriculum making method other than DACUM.
Developing e-learning system through three CoEs.
Developing Quality Assurance Framework for TVET and testing it through 3 CoEs.
Coordination and Collaboration with TVET stakeholders at government, private, public level.
Collaboration and coordination with provincial and local level government to expand TVET programmes at provincial and local levels.
Contact Us
Address : CTEVT building, Sanothimi, Bhaktpur
Po Box No.:3946, Kathmandu
Contact Number : 01-6630452
Email : info@sakchyamta.org.np
Website: www.sakchyamta.org.np